D  I  R  E  C  T  I  O  N  S    A  N  D   G  E  T  T  I  N  G    A  R  O  U  N  D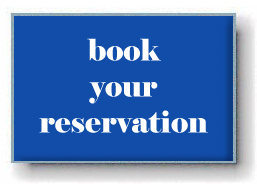 Directions and Getting Around

How To Get Here

Walking

Wanderfalls Guesthouse is within walking distance to Rainbow Bridge and the Falls.  Walking along the Niagara Gorge to the Falls is scenic and easily accessible from the Discovery Center 3 blocks away.  You can also pick up the Scenic Trolley there ($2 adults, $1 children 6-12, and free for children 5 and under).  You can get off and on as often as you wish.

Also within walking distance is Main Street, the restaurants and bars on 3rd Street,  Tops Grocery store, the post office and the Seneca Casino.  

If you love to hike, this is the place.  The hostel is 1 block from the Niagara Escarpment and the trail that goes along the Niagara Gorge, the Whirlpool and Devil's Hole.  Click on this link to see walking and trail information. 
www.nfwhc.org/parks/gorge.htm
Biking

Biking is a great way to see the area.  The house is one block from the Greenway, a biking and walking trail that runs from the Grand Island Bridge past the falls, up Niagara Gorge to Lewiston.   

Bus

Many attractions are within walking distance of the house and most are within biking distance.  However, should you wish to travel further afield on the U.S. side, you can take a city bus.  The main bus station is 3 blocks from the hostel at Portage Road and Ashland/Chilton.   Your best bet is the All Zone Day Pass ($5.00 for adults and $2.00 for children, seniors and the disabled).  

NFTA (Niagara Frontier Transit Authority)

Useful Routes:

·

To/From Buffalo Niagara International Airport - Bus Route #24 or 204 to downtown Buffalo and then #40 to


       Niagara Falls
·

To/From Downtown Buffalo and Greyhound - Bus Route 40 
·

Niagara University, Vista Power and Lewiston - Bus Route 50 
·

To/From train station by bus (ask the driver to let you off there or you will never find it – 

 the train station that is) -  Bus Route 52
·

Prime Outlets Discount Mall - Bus Route 54 
·

Pine Avenue and Little Italy – Bus Route 55
·

Trolley Route 55 (55t) – runs in the summer and goes downtown, out Pine Ave., to the Fashion Outlets.
Driving

If you wish to drive from the house to the Falls, which we don't recommend, parking will cost you at least $10 at the Park.  

Driving does allow you to go past Lewiston to Youngstown and Fort Niagara on Lake Ontario.  Also, if you have your papers in order, you can spend a day in Ontario's wine country.  

Crossing the Border

If you are a Canadian or US Citizen, it is easy to cross the border as long as you have proof of citizenship.  A driver's license is NOT proof; passports, birth certificates or "green cards" ARE.  Beginning June 1, 2009, everyone will need a passport to enter both the U.S.  and Canada.  EU citizens only need their passports.

The U.S. side of the falls is more natural and "up close".  The Canada side is commercial but gives you a panoramic view of the Falls.  You can easily walk across the Rainbow Bridge into Canada (50 cents round trip toll per person). 

Getting Around When You're Here 

W   A   N   D   E   R   F   A   L   L  S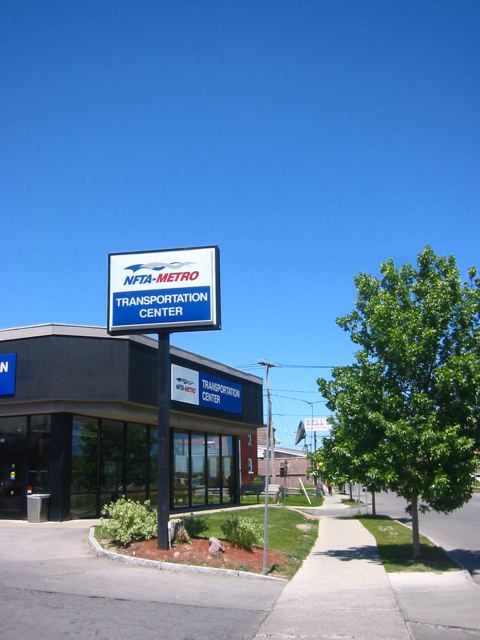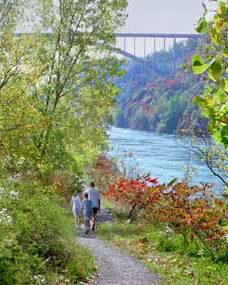 Wanderfalls Guesthouse is located at 601 Spruce Avenue in Niagara Falls, NY.

Train:  Amtrak comes directly to Niagara Falls and from the station you can walk (1 mile) or take a taxi for about $6.

Bus:  Major bus lines, such as Greyhound, go to Buffalo.  From Buffalo you can take the NFTA bus to Niagara Falls.  

Double click here to add text.

Plane: If you arrive by plane into Buffalo Niagara International Airport, you have 4 options to get to Niagara Falls, from most expensive to least expensive:

1) taxi – this is one we recommend: http://www.aplusxpresstransportations.com/ and you can book it online - $55

2) Uber or Lyft – prices vary

3) From airport only - ITA Shuttle - on the quarter hour between 9 am and 6 pm (ex. 1:15, 2:15) – to downtown Niagara Falls visitor center – you can walk or take another taxi from there - $25 per person

4) local buses - you take the #24 or the #204 to downtown Buffalo and then transfer to the #40 bus to Portage Road Station in Niagara Falls. The buses are $2 each. The house is 3 blocks from the station. Go to NFTA.com and use their Trip Planner button to plan your route. This route is reversed for going to the airport.

Option #4 is the most economical but difficult if you have a lot of baggage, it also takes a bit longer.